BO3 wallchalk textures?
Game Modding | Call of Duty: Black Ops 3 | Asset Importing
---
ModmeBot:
Thread By: ProRevenge
So ive been trying to figure out how to do my own wall chalks in the BO3 style but have been struggling with what sort of image and APE settings id need.

Ive looked at the stock Bo3 chalks and they seem to use an image of a chalk texture and somehow "overlay" the shape of the gun over the top somehow, and have 2 images in APE to do this, but ive no idea how id go about recreating it for a custom gun.

Anyone have any idea how id set APE and my images to get custom chalks as close to BO3's as possible? I'm not after just a white outline set to effect, I want the real thing
---
ModmeBot:
Reply By: Blink-420


check that out



//Mod edit: Please embed your links properly.
---
ModmeBot:
Reply By: ProRevenge
That covers the main points, but it isn't what I'm after, the chalk texture itself doesn't show, its still a solid white, look at the comparison between this method and BO3 chalks: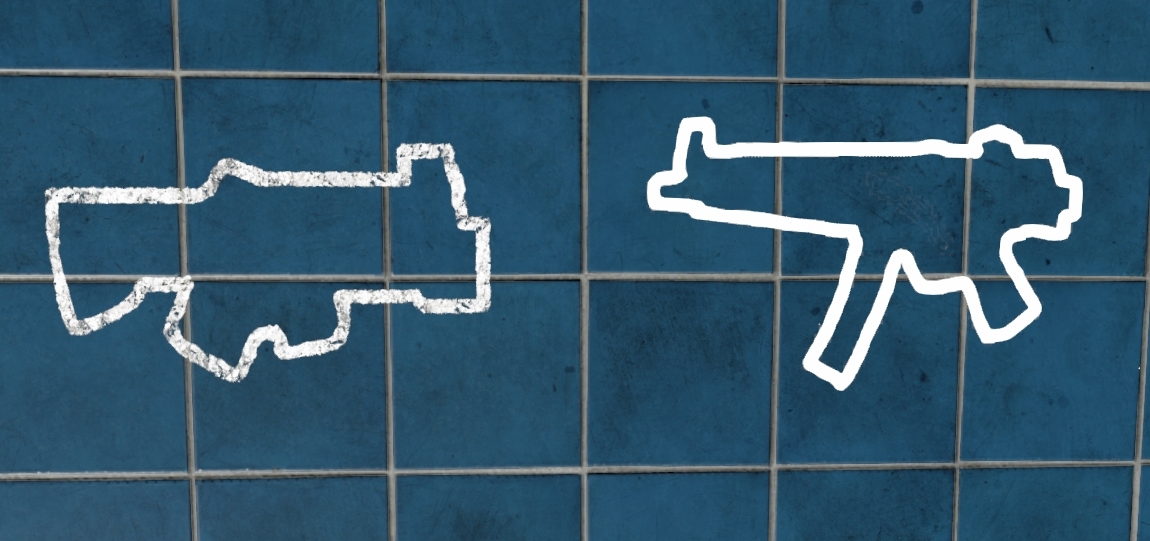 I ended up overlaying the chalk texture ontop of my hand drawn outline (I lack PS) and it still came out solid white, Ive no idea how this is done with the Bo3 chalks

Its strange too, because in APE, each chalk's image preview shows the correct outline, but opening the image results in a solid fill of the chalk texture, like so: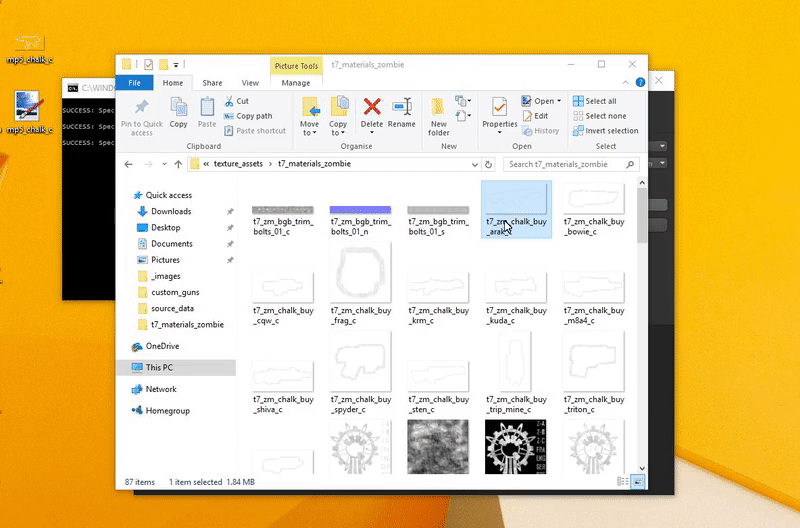 Somehow they have the chalks working correct in the final texture though, no solid white fill, but looks proper as if it was drawn by a chalk and not painted on

The BO3 chalks also have "holes" In them where you can still see the texture slightly behind them, Id like to get that with my chalks too
---
ModmeBot:
Reply By: TheRealBasher

ProRevengeThat covers the main points, but it isn't what I'm after, the chalk texture itself doesn't show, its still a solid white, look at the comparison between this method and BO3 chalks: I ended up overlaying the chalk texture ontop of my hand drawn outline (I lack PS) and it still came out solid white, Ive no idea how this is done with the Bo3 chalks Its strange too, because in APE, each chalk's image preview shows the correct outline, but opening the image results in a solid fill of the chalk texture, like so: Somehow they have the chalks working correct in the final texture though, no solid white fill, but looks proper as if it was drawn by a chalk and not painted on The BO3 chalks also have "holes" In them where you can still see the texture slightly behind them, Id like to get that with my chalks too
i have been having the same problem with this the only thing that i have actually worked is the chalk texture its self is on a alph layer within the image within its self then add when adding it to APE itself it is saved as material type lit_emissive_scroll_transparent when you crate the material in APE
---
ModmeBot:
Reply By: Gash

ProRevengeThat covers the main points, but it isn't what I'm after, the chalk texture itself doesn't show, its still a solid white, look at the comparison between this method and BO3 chalks: I ended up overlaying the chalk texture ontop of my hand drawn outline (I lack PS) and it still came out solid white, Ive no idea how this is done with the Bo3 chalks Its strange too, because in APE, each chalk's image preview shows the correct outline, but opening the image results in a solid fill of the chalk texture, like so: Somehow they have the chalks working correct in the final texture though, no solid white fill, but looks proper as if it was drawn by a chalk and not painted on The BO3 chalks also have "holes" In them where you can still see the texture slightly behind them, Id like to get that with my chalks too
If you are using Photoshop you can create this in several ways you can either;
set the rubber to one of the spraycan brushes and click around the chalk outline texture and it will create a similar effect, or What I normally do is:
<ul style="padding-left:40px;margin:0;">
<li style="width:100%;">Grab a chalk texture off the internet</li><li style="width:100%;">paste it over the outline</li><li style="width:100%;">create an alpha layer out of said chalk texture</li><li style="width:100%;">click the chalk outline</li><li style="width:100%;">ctrl + J</li></ul>
you should now have your outline with the rough chalk texture with little indents (of the black areas of the chalk texture) removed on the chalk outline which will be perfect for any surface it is placed onto